windsound may be thought of as a text movie animated by transliteral morphs (textual morphing based on letter replacements) from one 'nodal' text to another.
First cross-platform QuickTime version now available - see below.
windsound won the electronic literature organisation's prize for poetry in 2001. Heather McHugh's were very interesting and encouraged me to think more about the apparatus of literal processing in a recent essay, inner workings.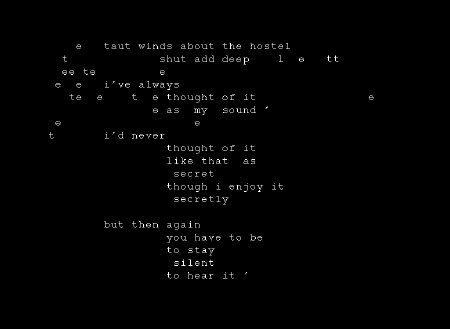 I have just completed (Jan'06) an initial 'QuickTime rendition' of windsound. This makes it cross-platform for the first time, so long as you have QuickTime installed. Please note that you will need a broadband connection to launch it by clicking on the smaller icon below. Please be patient. It will take a minute or two of loading before the movie will run smoothly. Once enough of it has downloaded, you will also need to click the 'play' button and/or select View -> Present Movie. I will be working on more professional delivery shortly, and I am even thinking of making a version to display on iPods.