---

CATALOGUE


| | |
| --- | --- |
| IN # | |
| IX | Oisleand |
| VIII | <Reveal> |
| VII | Clock |
| VI | Book Unbound |
| V | Leaving City |
| IV | Golden Lion |
| III | Moods & |
| II | Collocations |
| I | IN 1.2 |
---

PROGRAMMATOLOGY

| Introduction

| RL Installation

| Codexspace

| Publications

| Writer

| Precedents



---

THEORY / PRACTICE

| Of Programmatology

| Overview

| Why?

| Transliteration

| Hyper-/Cyber-/Poetext



---

WEB WORKS &
SAMPLES

| OISLEÁND

| generated texts:
: First Lesson
: Actual Possession
of the World
: Leaves
from Book Unbound



---
DOWNLOAD
---

IN CV

: list of previous talks
: installations &
: performances
: relating to IN



---
SHADOOF
LINKS
---

---



I N D R A ' S : N E T
: o r :
H O L O G O G R A P H Y
machine modulated poetry | books unbound
(Plastic) Literary Objects | POtential LIterary OUtlawry


---
C A T A L O G U E
O F : E X I S T I N G : W O R K S
---
---
---
IX | Snap | Up | Next | Top
---
OISLEÁND

Indra's Net IX

'Oisleánd' is an exploration of the translation and transformation of one written language into another. In its cybertextual form (as computer software encoding a literary object - specifically a HyperCard stack and graphics files which you may download as shareware from the Indra's Net Download Point) it uses mesostic techniques to sow the text of either original or translation within the spelt words of the parallel text in its corresponding language.

You may explore a set of 'Frozen & Painted Readings' - colour screen shots which capture and make clear the principles involved here on the Web.

London: Wellsweep, 1996. ISBN 0 948454 28 8.
---
VIII | Snap | Up | Next | Top
---
Pressing the REVEAL CODE Key
Indra's Net VIII
Using a development of the form initiated in Book Unbound, this piece allows readers to create and explore collocational blends generated from an article on the relationship between software engineering and experimental poetics written for the electronic Journal, EJournal ("an all-electronic, e-mail delivered, peer-reviewed, academic periodical" - to subscribe, send 'sub ejrnl' to: listserv@albany.edu; to get vol. 6, no. 1, send 'get ejrnl V6N1' to the same address, or visit the EJournal web site: http://www.hanover.edu/philos/ejournal/home.html).
London: Wellsweep, 1995. ISBN 0 948454 27 X.
one constructs with and against and amongst the code
it can be made to enrich such phenomena
real inscriptions of our most intimate activities
real inscriptions of our creative
and destructive
operations

so either of these absent agents may be programmers
systematic manipulators of text
authored in the constructive act as
poetry
inscriptions of the code
each term of the code
each term of the field of writing

press the reveal code key
---
VII | Snap | Up | Next | Top
---
THE SPEAKING CLOCK
Indra's Net VII
... with acknowledgements to Emmett Williams's 'Poetry Clock' and, more specifically, to John Christie's mechanical 'Word Clocks' ... however this (silent) speaking clock in software both composes from a given text according to quasi-aleatory procedures and actually tells the 'real time':
"What if it was impossible to apply a single name from a finite set to a moment which seems to recur in an acknowledged cycle of time? What if it was impossible to apply the word 'dawn' to more than one single instant at the beginning of some one particular day?" -- from the given text.
London: Wellsweep, 1995. ISBN 0 948454 26 1.
---
VI | Snap | Up | Next | Top
---
BOOK UNBOUND
Indra's Net VI
When you open the book unbound, you will change it. New collocations of phases generated from its hidden given text - a short piece of prose by the work's initiator - will be displayed. After the screen fills, you will be invited to select a phrase from the generated text by clicking on the first and the last words of a string of language which appeals to you. Your selections will be collected on the page of this book named Leaf, where you will be able to copy or edit them as you wish.
They will also become a part of the hidden store of potential collocations from which the book will go on to generate new text. That is, your selections will feed back into the process and change it irreversibly.
If you continue reading and selecting over many sessions, your preferred collocations may eventually come to dominate the process. The work may then reach a state of chaotic stability, strangely attracted to one particular modulated reading of its original seed text.
Book Unbound was selected for inclusion in:


the special Hypertext Issue of pmc.
London: Wellsweep & Engaged, May, 1995. ISBN 0 948454 97 0.
'Leaves' from Book Unbound
Generated by the author and other active readers.
Remarks on 'Book Unbound'
from Espen Aarseth's 'Cybertext: Perspectives on Egodic Literature'
Baltimore: John Hopkins University Press, 1997, pp. 56-57.
<http://www.hf.uib.no/cybertext>

"John Cayley's Book Unbound is a literary work not easily classified by traditional aesthetics. As a computer program (written in Hypercard), it takes over the screen and spits forth short suggestive sentences one word at a time ...

"The program is assembling these lines from its 'hidden texts' according to certain algorithms. As the process goes on, the hidden text is changed by what is displayed, and the user can select passages for inclusion in the regenerative process. Thus the text output is influenced, and will be different for each copy of the text. Is it still the same text? Cayley calls the produced output 'hologograms,' fragments that contain holographic versions of the initial material....

"This text is an impurity, a site of struggle between medium, sign and operator. The fragments produced are clearly not authored by anyone, they are pulverized and reconnected echoes of meaning, and the meaning that can be made from them is not the meaning that once existed. Book Unbound is an extreme paragon of cyborg aesthetics, an illustration of the issue of communicative control. The pleasure of this text is far from accidental; it belongs not to the illusion of control, but to the suggestive reality of unique and unrepeatable signification. It would be a grave mistake to see this text as a metaphor of the 'impossibility of perfect communication' or as the embodiment of the gap between sign and meaning in texts. Instead, it shows how meaning struggles to produce itself, through the cyborg activity of writing."

Aarseth's study is a highly-recommended contribution to the study of cybertextual literature, especially for it's typologies of potential genres (and textual communication generally), its application of sophisticated but down-to-earth literary and theoretical analyses to the entire range of emergent literary forms, including, importantly, the cooperative, cyborg literature of MUDs and MOOs.
---
V | Snap | Up | Next | Top
---
---
IV | Snap | Up | Next | Top
---
An Essay on THE GOLDEN LION
Han-Shan in Indra's Net
Indra'sNet IV
A mesostic demonstration of 'interpenetration and mutual identification' based on an original poem by the author and Fazang's (643-712) 'Essay on the Golden Lion'.
London: Wellsweep, Nov. 1994. ISBN 0 948454 95 4.
A limited edition paper version of this piece has been published by The Morning Star Press, Edinburgh:
'An Essay on the GOLDEN LION: Han-Shan in Indra's Net.' Under the Moon Series 2/1. Edinburgh: Morning Star Publications, 1995.

The cost is GBP£5 / US$10.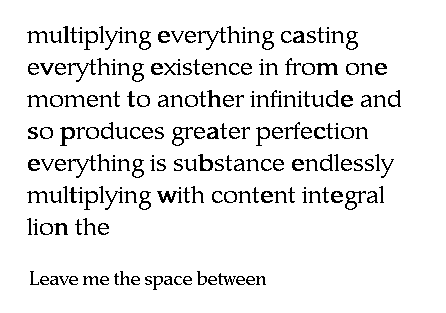 ---
III | Snap | Up | Next | Top
---
MOODS & CONJUNCTIONS
Indra's Net III
Collocational procedures applied to three related texts, generating a new work which explores strictures and constraints associated with both sex and language.
London: Wellsweep, 1993-94. ISBN 0 948454 93 8.
First Lesson
A poem gleaned and lineated from Moods & Conjunctions.
Download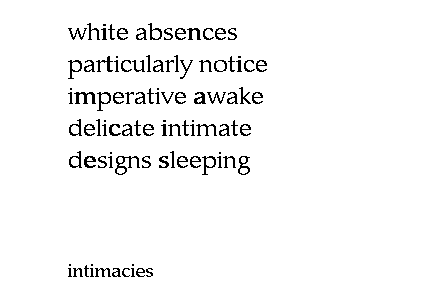 Moods & Conjunctions also contains developments of earlier work. This screen shot is taken from its rendition of the piece 'Indra's Net 2'.
---
II | Snap | Up | Next | Top
---
COLLOCATIONS
Indra's Net II
The first demonstration of a collocation hologogram applied to a prose work by the author and concerning the paintings of Zurich-based British artist, Christopher Bledowski.
London: Wellsweep, 1993. ISBN 0 948454 87 3.
A paper version of Collocations is published by the Many Press, London in an edition of 221, 16-page pamphlets, each of which is unique: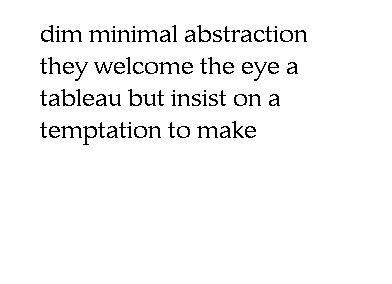 ---
I.2 | Snap | Up | Top
---
INDRA'S NET I.2

A revision of the original Indra Net essays with the first version of 'Under it All' as centre- piece. Pre-dominantly mesostic (internal-acrostic) pieces, with much explanatory material.

London: Wellsweep, 1991-93. ISBN 0 948454 84 9.